Maria
Penkova

- Athanasiu
Lawyer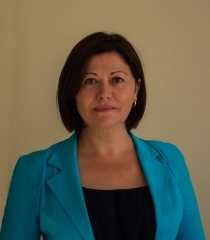 Welcome!
We will be together all the way forward until we reach the best and most effective solution for you and your interests.
Contacts
Phone:
+30/2103605912
Mobile phone:
+30/6977427544
E-mail:
marpenkova@gmail.com
Profile
"People become really quite remarkable when they start thinking that they can do things. When they believe in themselves, they have the first secret of success."

Norman Vincent Peale
Education
Languages

I have graduated from a master's degree of law at Kapodistrian University of Athens.

More info here. The National and Kapodistrian University of Athens, usually referred to simply as the University of Athens (UoA), is a public university in Zografou, a suburb of Athens, Greece. It has been in continuous operation since its establishment in 1837 and is the oldest higher education institution of the modern Greek state and the first contemporary university in the Eastern Mediterranean. Today it is one of the largest universities by enrollment in Europe, with over 100,000 registered students. The National and Kapodistrian University of Athens (NKUA) is an integral part of the modern Greek academi intellectual tradition.

Bulgarian
Greek
English
Russian
Specialization
Greek, Bulgarian and European Law;
Family and inheritance law;
Civil, Administrative and CMR cases in Greece and Bulgaria;
Registration and service of companies, branches and subsidiaries in Greece and Bulgaria;
Appeal of administrative fines;
Transport and Maritime Forwarding Law;
Preparation of contracts;
Legal advice;
Store a trademark;
Assistance and collaboration of the victims of traffic accidents, procedural representation, compensation;
Purchase and sale of real estate;
Registration of cars in Greece and Bulgaria;
Translation and legalization of Bulgarian, Greek and English documents. Apostille (seal of the Hague);
Preparation of documents for retirement of Bulgarian citizens.
Autobiography
Contacts
Get in touch:
Phone - +30/2103605912
Mobile phone - +30/6977427544
E-mail - marpenkova@gmail.com
Working time:
Address:
st. "Vasilissis Amalias" № 21
Marussi,Athens, Greece
151 22